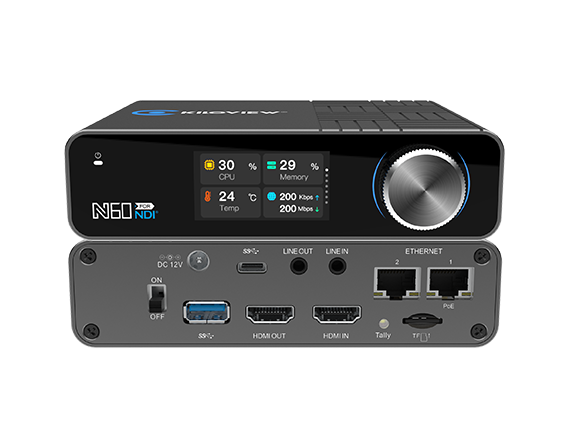 Checking out the new Kiloview N60 – a 4K UHD box that is also a bi-directional converter. That means you can do Camera to NDI, then NDI to output source. The N60 gives you both High-bandwidth NDI and NDI|HX signals (HX2 for now).
This box can be used in many different situations, from broadcasting to communications. Plug in a USB headset if you need to connect to an intercom system.
The N60 brings in YcbCr 4:2:2 color space and 10 bit color depth (but can also do 8-bit color). Dual Ethernet allows for constant connections, and one Ethernet is also PoE enabled for less cables. No wireless, but Kiloview does have wireless solutions for your needs.
USB also allows for ePTZ options if you connect a PTZ camera to the unit.
The front LCD panel gives you the ability to check the stream, or adjust settings for the stream you are running. You can even record at the unit (.MOV format) using the TF card.
N60 will mount to any camera with the shoe adapter.
The N60 will be out later this year. No price has been given, but expected to be around $1,000. For more information, check out Kiloview's website
Subscribe to Geekazine:
Reviews: Geekazine gets products in to review. Opinions are of Geekazine.com. Sponsored content will be labeled as such. Read all policies on the Geekazine review page. 
(Visited 98 times, 1 visits today)