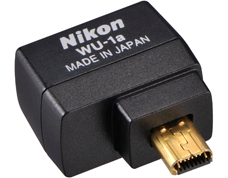 Nikon
 introduced 2 new adapters that allow a camera to connect to a smartphone via wireless. The adaptors – WU–1a and WU–1b – can be used with new models of Nikon cameras.
Nikon's newest line of camera is the Nikon D5200; a 24.1 megapixel single lens reflex digital camera with 14 bit RAW, JPEG at 1:4, 1:8 or 1:16 compression. ISO sensitivity range is 100 to 6400. The D5200 interchangable lenses can find you the right shot anytime.
Nikon starts at $796 – body only. If you are getting into photography then Nikon 1 S1 ($499) mirrorless camera and Nikon J3 ($599) mirrorless might be your style.
Interview by Don Baine, the Gadget Professor.
(Visited 3,583 times, 1 visits today)